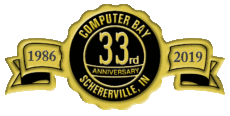 Since 1986 Computer Bay has serviced the people and companies of NW Indiana, a record of longevity that is rare in this industry.
Computer Bay offers a full line of manufacturer's equipment such as Lenovo, HP/Compaq, Acer, Ricoh, Okidata, Lexmark, Epson, AMD, Intel, Logitech, Microsoft, MSI, Asus, Aopen, nVidia, Belkin, APC, Linksys, name brand system level components, and many others such as supplies and accessories.
Computer Bay is a factory authorized service center for HP/Compaq, Epson, Okidata, and more.
Up to Net 30 terms or competitive lease rates for extended time periods are available to qualified applicants.
Computer Bay offers Consulting from a manufacturer trained representative for such applications as networking, internet services, computer aided engineering (CAD), and many others at no additional charge to your order.
When dealing with Computer Bay, you can expect prompt, professional, courteous service from an experienced organization you can trust to give you honest, accurate answers.